World Leaders in Architectural and Interior Design
McNally Design is a leading architecture and interior design firm established in Dublin in 1979.
We deliver award-winning hotels, pubs, bars and restaurants as well corporate and retail spaces, entertainment facilities and exhibitions throughout the world. We understand our clients, design outstanding spaces and deliver return on investment. 
We move ideas into reality.
Latest News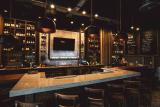 Fadó Pub and Kitchen in Dublin Ohio is the latest addition to the Fadó Groups food and beverage portfolio.