Retec MDI Middle East Home
Retec MDI is an internationally renowned architectural and interior design firm founded in 1979 with the ultimate objective of adding value, raising standards and enhancing projects within the design industry at a global level. 
We move ideas into reality. 
Latest News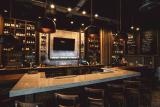 Fadó Pub and Kitchen in Dublin Ohio is the latest addition to the Fadó Groups food and beverage portfolio.